One day only on November 26, 2021, applying "BLACKFRIDAY" promotional code and customers will immediately be able to get VND0 tickets (*) when booking Vietjet tickets on the official website at www.vietjetair.com, Vietjet Air mobile apps and Facebook fanpage at www.facebook.com/vietjetvietnam (section "Booking").
In particular, customers can enjoy free payment fees when booking tickets and paying via Vietjet SkyClub – Vietjet's exclusive loyalty program.
Flying with Vietjet during this period, customers will receive lucky presents and health care services on all flights including nutritious drinks that good for health as ginger tea, having health monitoring guide for pandemic prevention, guide to yoga exercises, anti-pandemic health care, protective and antibacterial hygiene products, etc.
Especially for the first time, Vietjet offers a trio of health care products in the sky for pregnant women, beauty care and relaxing essential oils.
In addition, Vietjet continues to sell two unlimited flight passes being valid for one year including Power Pass Sky12 (priced at only VND19,999,000) and Power Pass SkyBoss (priced at only VND74,999,000) with up to 50% discounts for customers who purchasing them on website www.vietjetair.com, https://powerpass.vietjetair.com and Vietjet Air mobile app (**).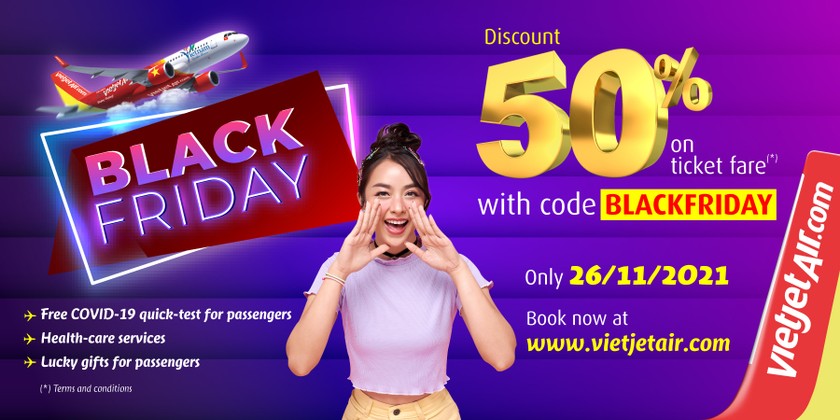 To bring "green", safe and convenient flights with many promotions for "travelholic", Vietjet hopes all passengers can enjoy the flying experiences in the year-end festive season or when coming back to their families, seeing friends and relatives with full of laugh, peace of mind and comfort at an altitude of 10,000 meters.
Besides, Vietjet continues to offer free Covid-19 quick test for all passengers choosing to fly with Vietjet from Ha Noi and Ho Chi Minh City (***).
(*) Excluding taxes, fees
(**) More details about Power Pass SkyBoss and Power Pass Sky12 here: https://powerpass.vietjetair.com
(***) Furrther information here: https://www.vietjetair.com/en/pages/instructions-for-covid-19-testing-voucher-1634395204799