Low profits, high costs
Sales in the textile and apparel sector in the first quarter of 2020 in Vietnam indicate some growth over the past two months, but the results are not quite so encouraging. Yet a rise in several share prices was seen, even as high as in the growth period prior to the outbreak of the Covid-19 pandemic. Shares with the highest increase were those of TNG, soaring by 79.22%, MSH by 62.02%, GMC by 58.54%, VGT by 49.15% and TCM by 46.93%.
The negative impact of the pandemic is the reason given for poor sales in the first quarter. TCM, for example, reported its year-on-year net sales to go down by 19.2%, with exports falling by 25%, and gross profits dropping by 21.5%. In April, TCM continued to report a 13.6% year-on-year fall in sales and a 59% decrease in after tax profits. However, TNG is a company said to have benefited from the Covid-19 pandemic because it quickly switched to mass production of face masks, but despite this, TNG suffered a 4% year-on-year fall in the first quarter and after tax profits plummeted by 10%. MSH saw a 3.4% year-on-year drop in sales and its after tax profits plunged by 28.6% to almost VND 62 bn.
Goods saw lower sales in April 2020 in the US market. (Source: CNBC)
According to figures compiled by Viet Dragon Securities Corporation (VDSC), the sales growth in the textile and apparel sector in the first quarter suffered a 11.2% year-on-year fall, as opposed to a rise of 10.2% in the first quarter of 2019 and 17.5% in the same period in 2018. While profit growth in the first quarter of 2020 recorded a 9.4% decline, in 2019 it rose by 6.5%, and in 2018 by 22.5%.
EVFTA a far reality
The textile and apparel sector has been among the hardest hit globally by the Covid-19 pandemic. Figures from the General Statistics Office of Vietnam show that the export turnover in the textile and apparel sector in Vietnam saw a 1.4% year-on-year decrease, with a sharp fall by 0.4% in the US market and a 6.1% fall in the EU market, which for Vietnam are both major export markets.
Buying power clearly has been affected by the outbreak and spread of the coronavirus. Covid-19 first spread in Italy and then affected other EU countries like France, Germany and then UK and the US, and some of these countries did not accept a lockdown of its citizens until March. Export turnover in Vietnam's textile and apparel sector plummeted 20% by March and figures in April and early May saw a fall of 6.6%, touching only USD 10.64 bn, while import turnover saw a drop of 8.76%, touching just USD 6.39 bn in revenue.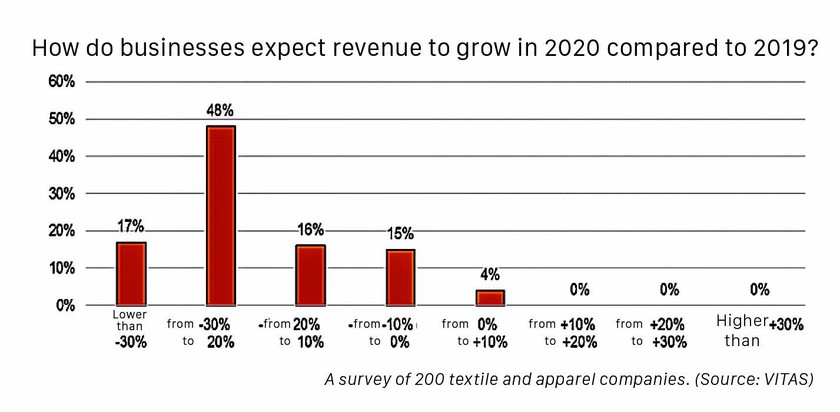 A survey of 200 textile and apparel companies. (Source: VITAS)
Such declining figures indicate that the textile and apparel companies have been severely hit. However, when looking at the share prices of listed textile and apparel companies, the securities market believes that adverse elements have been displayed. Now it is the recovery capacity and regaining of growth momentum that will be pivotal for revival. Hence, depending too much on EVFTA is unrealistic and too distant in the future.
In fact, the textile and apparel companies themselves admit their fears of many difficulties ahead, which is a completely different picture painted by the securities market. A survey by Vietnam Textile and Apparel Association (VITAS) of 200 big and medium-sized textile and apparel companies in Vietnam shows that 48% believe their year-on-year sales are expected to plunge by 20% to 30%, and only 4% expect their sales to increase by a maximum of 10%. Most importantly, 74% of the companies strongly believe that Covid-19 can cause a drop in orders by as much as 30%, and only 10% say that the fall will be less than 10%, although none of the companies believe that orders will increase.
At a meeting with the Ministry of Industry and Trade in early May, VITAS said that the most optimistic scenario could see about USD 35 bn in export turnover in the textile and apparel sector in 2020, which is a 10% fall from 2019. The best case scenario could be about USD 33.5 bn while the worst case scenario would see a fall below USD 30 to 31 bn. In 2019 this figure was around USD 39 bn. VITAS also said that the fall over the first four months of this year did not show the actual shortages in export orders, and the biggest drop could not come until May and June when there could be a high volume of delays and cancelled orders.
Investors appear to be too optimistic about a speedy recovery of the textile and apparel industry as the major export markets relax lockdown restrictions. These mere presumptions could possibly be far from actual reality. Vietnam's two major markets, namely, the US, making up 50% of the total export turnover, and the EU, holding 12% export turnover, are now showing a drastic decrease in consumer spending. The EU witnessed a record low of 11.2% in sales in March, with a 9.2% year-on-year fall, being the highest fall in sales in the textile, apparel and footwear business. Similarly, the US saw a fall of 16.4% in retail sales in April, after plunging 8.7% in March, with the biggest drop visible in the textile and apparel sector.
In the short run, the markets are the pre-requisite. When major import markets for Vietnamese textiles and apparel products decline, the opportunity for recovery of Vietnamese exports will not be favorable. In the long run, these markets are still able to return to normal, but the question is how long it will take for the concerned markets to stage a recovery when consumer psychology and behavior has now changed completely due to the disease. This may make textile and apparel companies take very cautious steps which the securities market may not notice.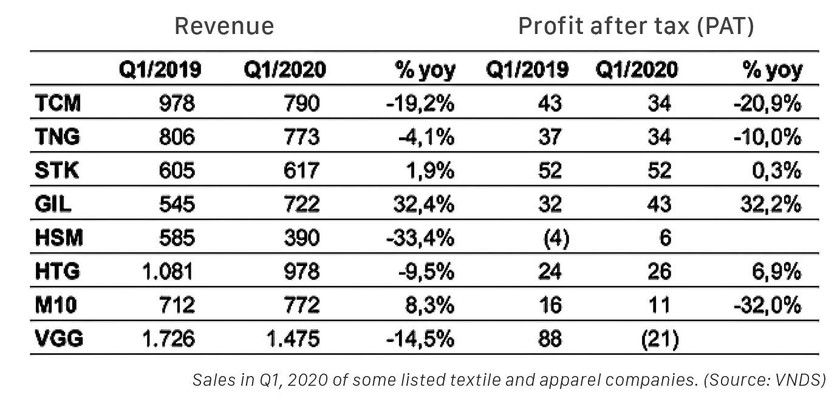 EVFTA will still offer huge opportunities for the textile and apparel industry, but only in the long-term. The Ministry of Industry and Trade previously predicted EVFTA would help Vietnam's textile and apparel export turnover to the EU to rise by 67% by 2025, as compared to a situation without a free trade agreement. EVFTA is expected to help increase production by 6% in textiles and 14% in apparel, by 2030.
According to an analysis made by the securities company SSI, EVFTA will not bring about immediate results in the textile and apparel sector. Most Vietnamese apparel products will not enjoy a reduced preferential tariff immediately, but instead will be offered a lower tariff rate to work with for a period of two years soon after EVFTA comes into effect.
EVFTA also requires that different kinds of fabrics must originate from Vietnam, Europe or the Republic of South Korea, which has signed an FTA, and the cutting and sewing processes must be carried out in Vietnam. However, more than 60% of the fabric imported by Vietnam is from China or Taiwan. It would not be economical for Vietnamese producers to turn to using fabric imported from the Republic of South Korea, even with the offer of a 0% tariff from EVFTA.
Hence, before the textile and apparel industry sees significant growth due to EVFTA, it must tread carefully so as to survive the current crisis which is unlikely to go away for some years to come.
Translated by Nguyễn Gia